t's clear to everyone that shipping is an important part of your online business, but it can also easily bring your business to its knees if you don't budget carefully. Therefore, finding affordable and cost-effective shipping solutions is critical to expanding your profit margin. But doing so doesn't just mean choosing to use only the cheapest shipping option.
Rather, it's about choosing a method that's not only cost-effective when it comes to building a successful e-commerce store, but also one that fits your business's needs.
In general, businesses can choose from three shipping options: expedited shipping, standard shipping and economic shipping. Each expedited service has its own advantages, and which one you choose depends specifically on your customers' delivery expectations and your expedited budget.
In this article, you will be introduced to what economy shipping is, how long economy shipping services generally take to deliver, the different economy shipping services offered by different carriers and whether economy shipping is right for your e-commerce store.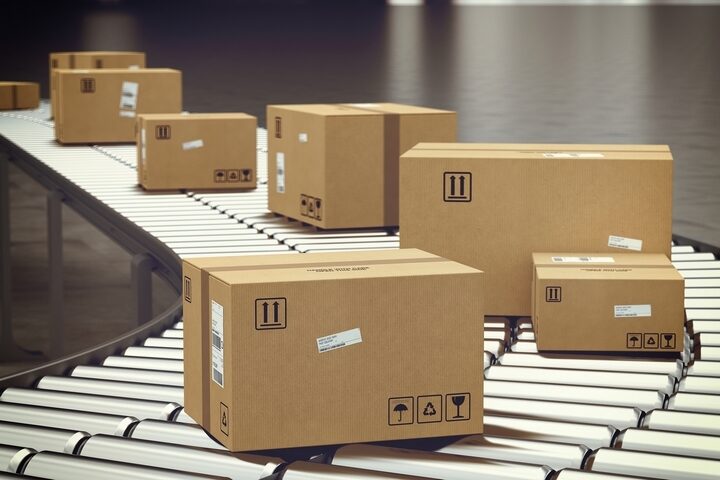 By reading this article, you can consider the importance of using economic shipping for your delivery needs and also use the tariff calculator to estimate and compare the shipping times and costs of different couriers. This will allow you to choose the service that meets your needs.
1. What Is Economy Shipping?
What is economy shipping? To put it simply and directly, economy shipping is the cheapest way to transport packages. It takes a little longer than express or expedited courier services, but offers a better way to ship your goods while reducing shipping costs. Most couriers will offer it. It is more suitable for parcels that are less time sensitive.
Economy shipping is also a slower shipping solution that takes longer than expedited and standard shipping because the cost of shipping determines the speed of delivery.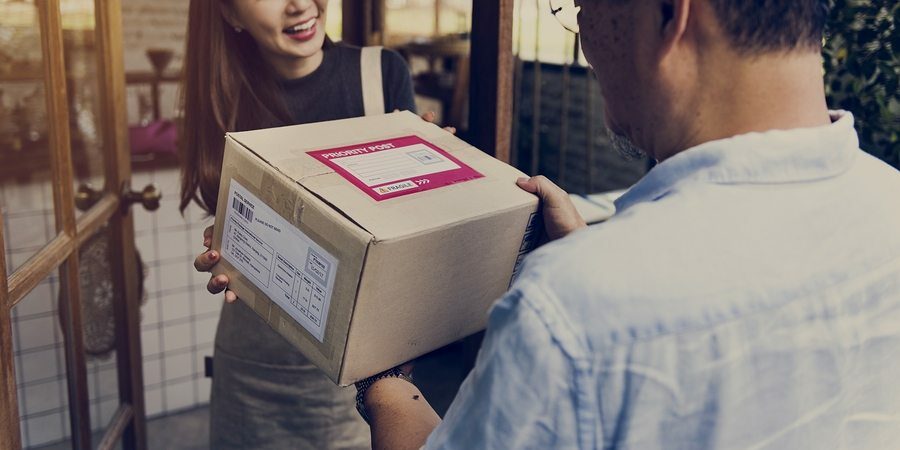 2. How Long Does Economy Shipping Take?
Within the United States, economy shipping times are typically about 1-5 business days. There is no uniform timeline for economic shipping, as it depends on the courier company your business uses and the destination to which the package is to be shipped. If the package needs to reach the farthest shipping area within the country, the delivery time will be longer, but for packages shipped within the same state, the delivery time will be slightly faster.
However, the delivery time is even longer when sending parcels internationally by economy shipping, with an average of 6-15 business days to most destinations.
If you need to consider using economy shipping for international shipments, be sure to use the shipping rate calculator to estimate and compare shipping times and costs of different couriers in order to choose the shipping service that suits your expectations.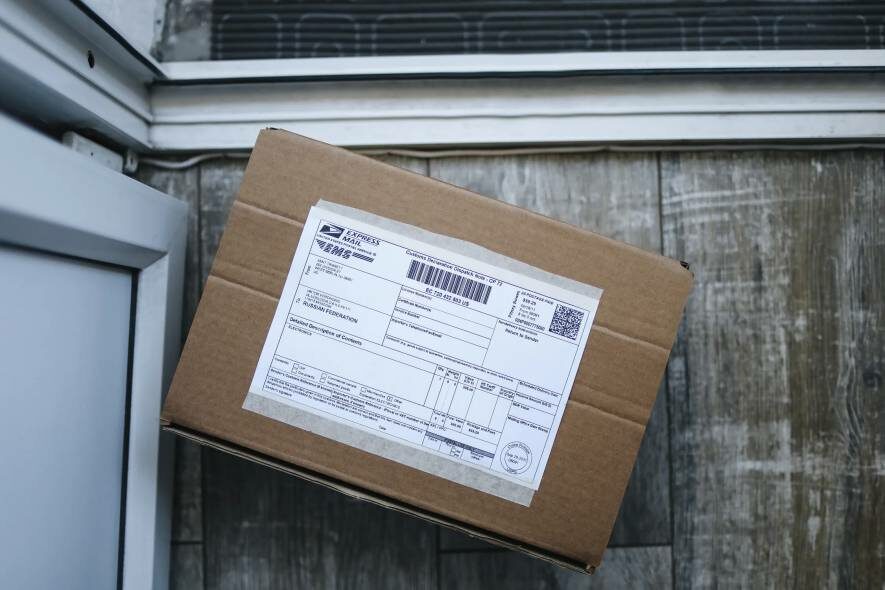 3. Which Carriers Offer Economy Shipping?
n the United States, almost all major couriers offer economy shipping services. And all economy shipping services are offered through ground transportation. They are perfect for large or relatively heavy items. The following are the different economy shipping services offered by the three major U.S. courier:
USPS Priority Domestic
USPS Economy shipping is delivered through USPS Domestic Priority. It is suitable for shipping packages up to 70 pounds within the United States.
UPS Ground
UPS Economy shipping is available through UPS Ground. Within the U.S., packages are typically delivered within 1-5 business days to their destination.
FedEx Ground
FedEx Economy shipping is offered through FedEx Ground Service. Delivery time is 1-7 business days.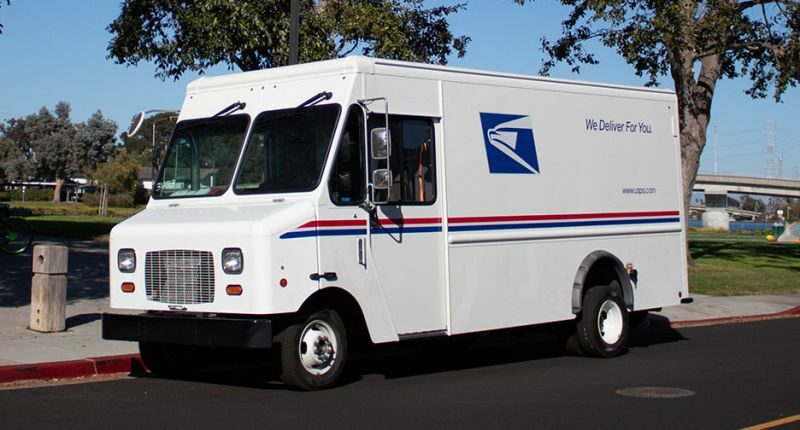 4. Economy vs. Standard Shipping
When comparing economy shipping with standard shipping, it is true that standard shipping is a little faster than economy shipping, but in the case of domestic shipping, there is actually not much difference between the two services. Both services offer package tracking and in most cases the delivery time to most US states is between three and five business days.
There is no big difference between standard and economy shipping . Both shipping services offer package tracking services, and most take 3 to 5 business days for delivery within the United States.
However if it comes to international shipping, there are more differences between standard and economy shipping. When shipping overseas, economy shipping services take longer than higher-priced services.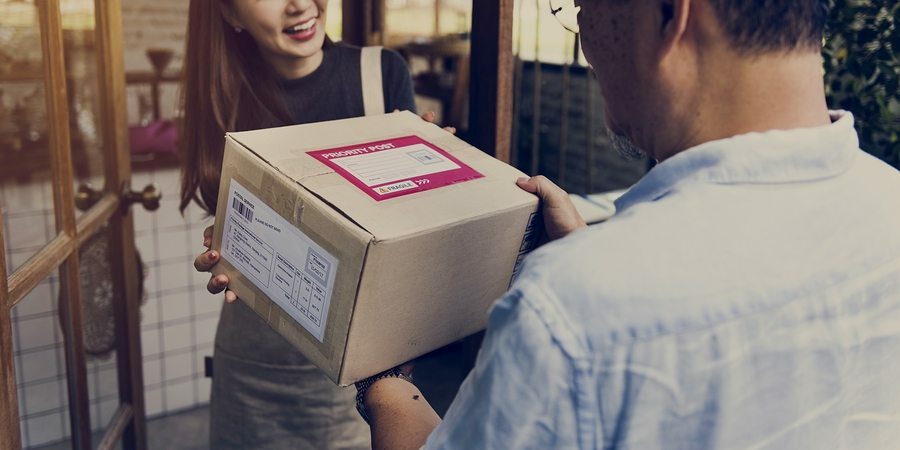 5. Economy International Shipping Services
Why international shipping needs to be considered now, too? It's because of the 1.22 billion digital buyers worldwide, the U.S. accounted for just 168.7 million buyers in 2015, or 14 percent of the market. With demand for U.S.-made products higher than ever, e-commerce sellers cannot ignore the growing international customer base that represents 86 percent of the global market.
If an e-commerce business needs to send a parcel to its overseas buyers, parcel shipping costs can become very expensive in an international context. This is especially true for small businesses that send multiple packages to global customers. Fortunately, different shipping companies offer different economy shipping services for mailing international packages that are perfect for e-commerce businesses and individuals.
If you want to use an economical international shipping service, the best way to do so is to use the shipping calculator to compare international shipping rates and then pick a different courier shipping service based on the needs of your e-commerce business.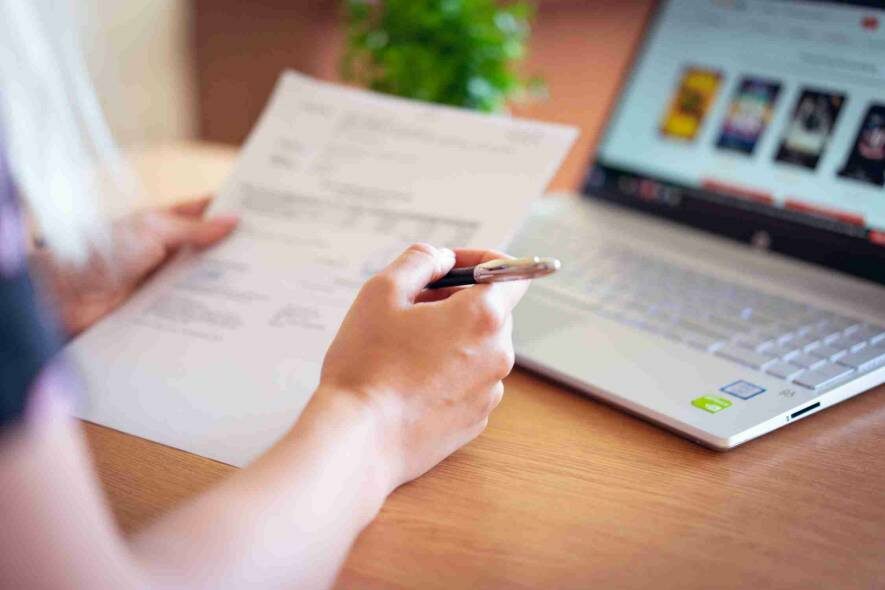 The following are the different economy shipping services offered by the major couriers:
USPS Priority Mail International:
You can use this service to ship to over 190 countries within 6-10 business days.
UPS Worldwide Economy:
You can use this service to mail packages to more than 210 countries with a more competitive delivery time.
FedEx International Economy:
With this shipping service, you can send packages to more than 215 countries/regions within 2-5 business days.
DHL eCommerce:
This service sends packages from the US to over 200 countries internationally
Comparing carrier costs
2lb.package from Los Angeles to London*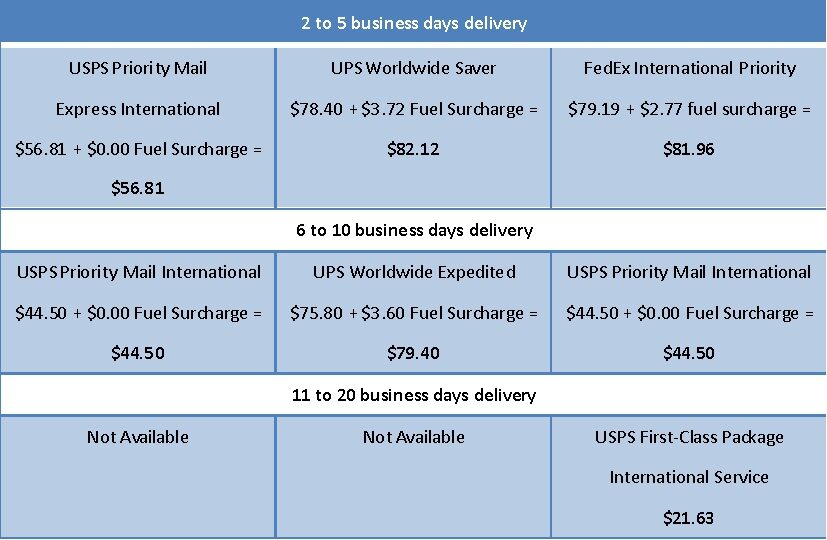 International Shipping Tips
Communicate delays to international buyers:
In the case of international shipping, there may be problems beyond your control that cause packages interruptions due to reasons such as weather and climate, natural disasters, politics or buyers. So be sure to maintain smooth communication with your buyers and any delays need to be dealt with promptly to ensure buyer satisfaction.
Buy international package insurance:
It is not uncommon for packages to be lost in international shipments, so the need for insurance comes to the fore. If your package is lost or damaged, please contact the seller promptly. We also recommend purchasing insurance for your package if the value of your item exceeds $50.
Use Priority Mail International:
All uninsured Priority Mail International packages (excluding small flat rate boxes) automatically include coverage for loss
The indemnity is the lesser of the actual value of the package contents or the maximum indemnity based on the weight of the package and is payable to the recipient of the package.
Think twice before marking "gift":
Don't risk being sued to please the buyer. It is illegal to mark a sold gift item to avoid additional charges if the item is not really a gift from you to the recipient. Make sure you can fill out your customs form based on the product being shipped.
Customs, Duties and Taxes
Customs Fees
Customs fees are charged by the host country to manage the goods entering and leaving the country. All products go through customs before they are sent to the buyer, and there is a fee for managing this process.
Similar to customs fees, a tariff is a tax on the value of an item, plus freight and insurance charges for each country. Tariffs are designed to protect local businesses and industries in your own country.
Not every country imposes a tax, and the tax will vary depending on the value of the product. This is an additional fee charged by local governments such as states, provinces or cities to deliver packages into their area.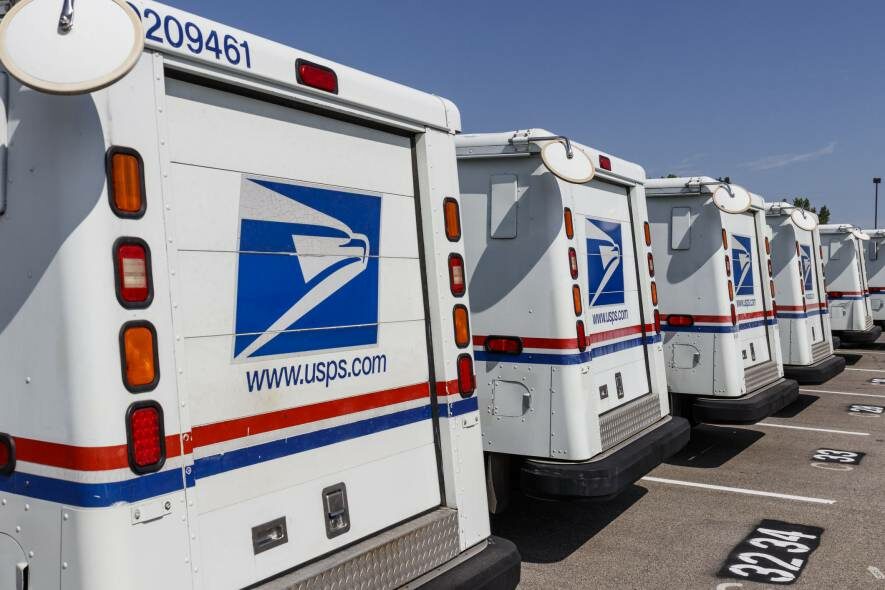 6. Economy ground shipping
Not all major carriers use the exact term "economic ground shipping", but they all have similar options. The main alternative to ground shipping is airfreight, where the package is delivered by air to the vicinity of your destination address and then delivered by truck. The cheapest type of ground shipping can be considered as "economic ground shipping".
Ground shipping is particularly suitable for sending large or heavy items, as air transport is much more expensive for the same volume and weight.
Ground Pickup – A FedEx courier will pick up your package from your home at the address you fill out and ship it within the U.S. within 1-5 business days.Package tracking service is available.
Ground Delivery – Packages can also be dropped off at your local FedEx drop-off location with a delivery time of 1-5 business days, and package tracking services are also available.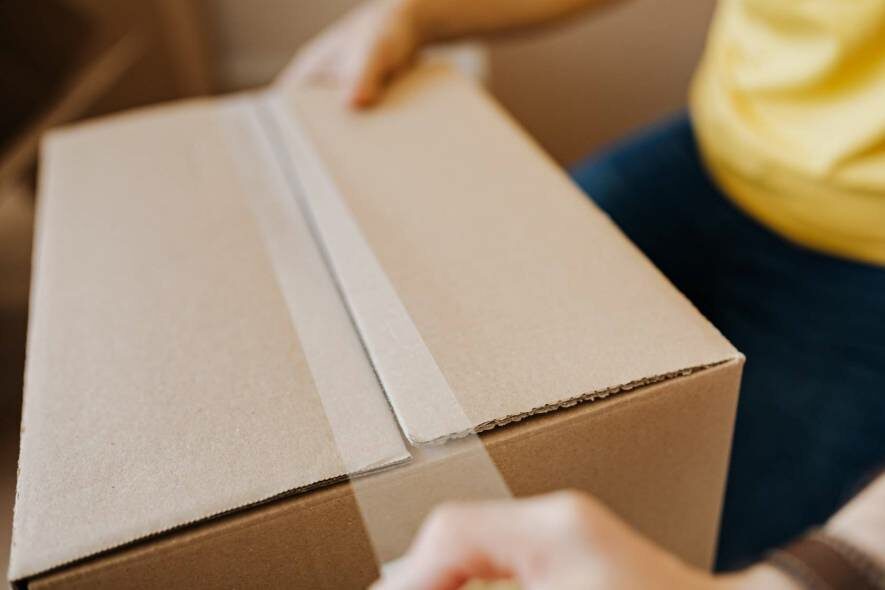 7. Economy shipping tracking
Economy shipping also comes with package tracking service. Economy shipping will come with package tracking services, but the tracking system will be slightly weaker and not as precise and sophisticated as expedited or standard shipping. Most of the time, Economy Shipping's tracking service is limited to scanning the package when it is collected, received and sorted, and finally scanned upon delivery.
But this is mainly because, most of the time, economy shipping has limited scanning and tracking services in order to reduce shipping costs but wants to cater to the customer's need for tracking packages, if compared to expedited delivery options.
8. USPS Economy Shipping
USPS Economy Shipping is also convenient and affordable. You don't need to bring your package to the post office to get USPS Economy Shipping rates, and you can also view USPS shipping rates.
USPS Economy shipping is delivered through USPS Domestic Priority. It is suitable for shipping packages up to 70 pounds within the United States.
9. Is Economy Shipping good for you?
At this point, you can see that you can reduce the cost of parcel delivery in your e-commerce store by using various economic shipping services for domestic and international shipping. This is especially true when you are dealing with large volumes of domestic shipments or sending less time-sensitive parcels to overseas buyers.
Or you can use the courier comparison tool and shipping calculator, both of which can help you compare and determine the best courier service and shipping costs for economical shipping.
You can also partner with Post Pony to enjoy more convenient shipping services.Post Pony is a one-stop platform provides discounted shipping and oversea warehousing services in United States. Headquartered in Los Angeles, with warehouses in Los Angeles, New York, New Jersey and Portland, and branches in Beijing and Shenzhen. By integrating multiple channels and developing an order management system, an extensive logistics network has been established. Ensure low operating costs and excellent customer experience.
We support freight consolidation and door-to-door pickup services by opening our Los Angeles and New York warehouses. Benefit from our technical team , API docking and logistics functions in the EPP integration.
If you are an online retailer, it is also suitable to use Post Pony to mail your goods, because post pony provide an all-in-one, one-stop solution for e-commerce, including order fulfillment, inventory management through integration with popular platforms and EPR software.
E-commerce Platform
Integrating multiple platforms, with order synchronization, inventory management, online label printing and more, Post Pony enables integrated fulfillment services and efficient, highly discounted, door-to-door local delivery.
Order Management Services
One click to upload, quote, and manage labels for various logistics channels, more suitable for uniform specifications but with multiple addresses.
API Integration
Helping enterprises connect with all available logistics channels, through API docking and ERP integration, ensures stability, simplicity and efficiency.
And Post Pony establishes overseas warehouses around the world with the aim of providing cost-effective warehousing and distribution services, integrating multiple channels, establishing strong local logistics and developing an efficient WMS system.
With us, you can stay ahead of the game when it comes to domestic and international shipping. Sign up for a Post Pony account today to get started!