Are you ever confused about which shipping service to use in the market? Standard shipping? Expedited shipping? If so, you are not alone. Surely, your buyers will want to receive their goods as soon as possible.
Research shows that 41% of customers are willing to pay for same-day delivery, while 24% say they will pay extra for orders delivered within two to three hours.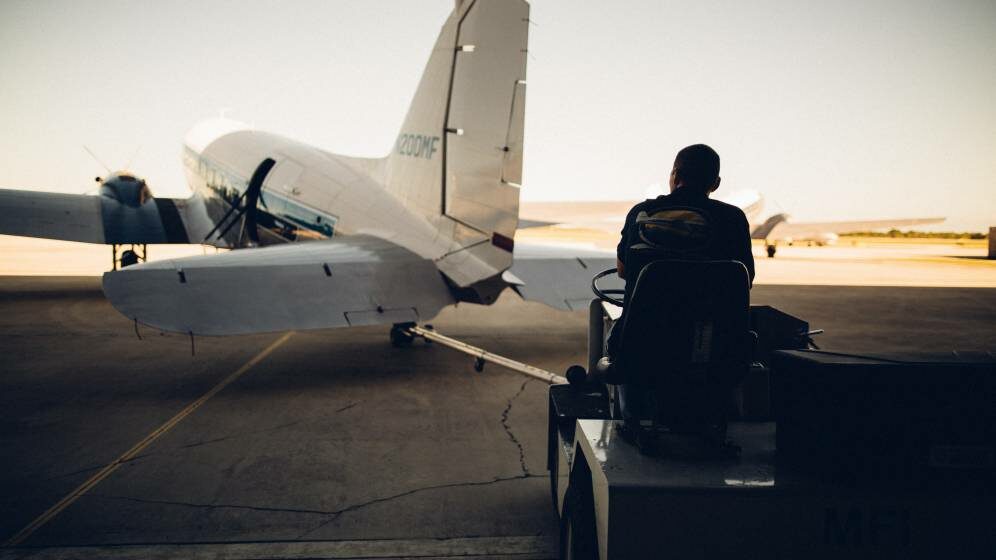 These figures can show that expedited shipping plays a very significant role in the overall supply chain.By offering more shipping options and faster deliveries, more customers can be attracted.
So here we will discuss what expedited shipping is , how fast the service is, how much it costs and why you should use it.
1. What is Expedited Shipping?
Expedited shipping is shipping that completes a customer's order more quickly than standard shipping. Expedited shipping has varying shipping times depending on the carrier, but for most domestic deliveries, it is usually somewhere between overnight and two-day shipping.
In express shipping, every possible method will be used to ensure that the package reaches its destination as soon as possible.
Trucks carrying expedited shipments rarely stop in order to follow the process quickly. Expedited shipments move directly from pickup to delivery.Generally, trucking companies that offer this expedited service will have two truck drivers working in shifts to reduce delivery time.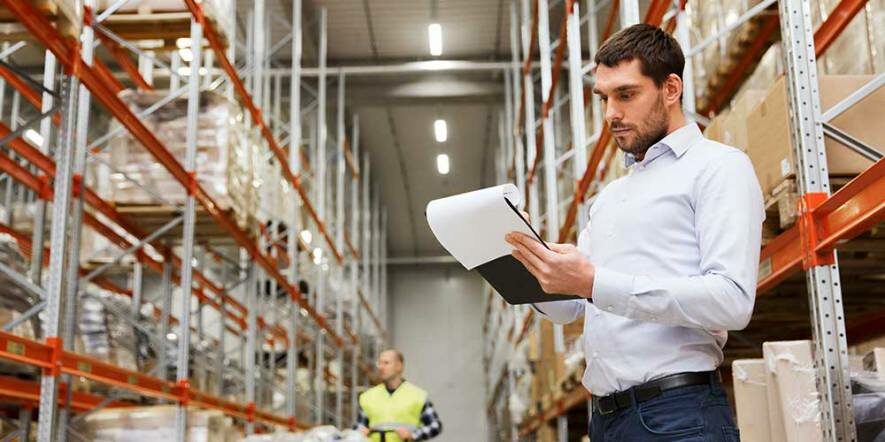 Once we understand what exactly is meant by expedited shipping, we need to look at the terms and conditions.
Regardless of which shipper you use, do not assume by definition or terms of service that "expedited" is the fastest, as in many cases this is only the standard or economical level of choice, especially if same-day or overnight shipping is offered.
Likewise, if a buyer asks you for "expedited" shipping, be sure to ask about the requested time frame and specify the level and cost of the shipper you are using.
Again, communicate clearly. When communicating with your customer, choose exactly which carrier you'll use, when you'll ship, what services you'll use, and when you expect delivery.
For example, state whether you will ship daily, weekdays only, or certain days of the week. When you outline the benefits of expedited shipping, provide specific information about how it differs from standard shipping. Because specific delivery times and prices are not quite the same for each express shipping carrier.
Finally, we can compare the different modes of shipping to see how the expedited shipping service mode is.
Expedited shipping vs. Standard shipping
It's not that hard to imagine that standard delivery is usually the cheapest form of shipping. Depending on the carrier , standard shipping within the U.S. is between 3 and 7 business days between the date the order is shipped and the time it arrives at the customer's doorstep.
Standard shipping is primarily used for less urgent items and it has a ground and tracked mail service, which can be slower than expedited shipping.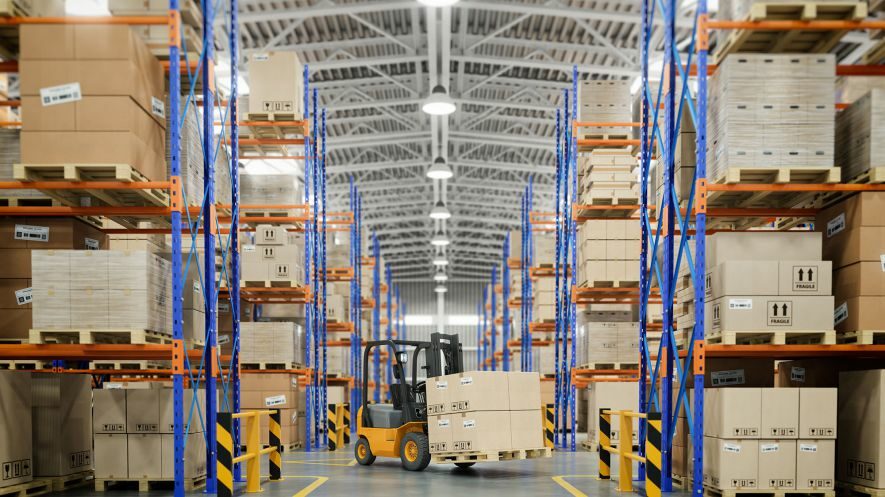 And standard shipments will most likely be shipped at bulk prices through the post office. Therefore, it will take longer to get anywhere. Please remember the shipping category when quoting a price.
There is no doubt that expedited shipping is faster than standard shipping, because some goods or customers need fast delivery service,such as 2-day or next-day delivery.
But there is one important thing to note,that most retailers calculate shipping time based on when the order is shipped (not when the order is placed). This means that if you choose 2-day shipping when you place your order, those 2 days may not include order processing time, especially if that time falls on a weekend or holiday.
Expedited shipping vs. Express shipping
Depending on the retailer and carrier involved, expedited shipping and express shipping are used in a variety of different meanings and can even be used interchangeably.
Generally speaking, though, when a courier company offers both express and expedited shipping options, express shipping is faster and it usually means 2-day or next-day delivery, while expedited simply means "faster than standard".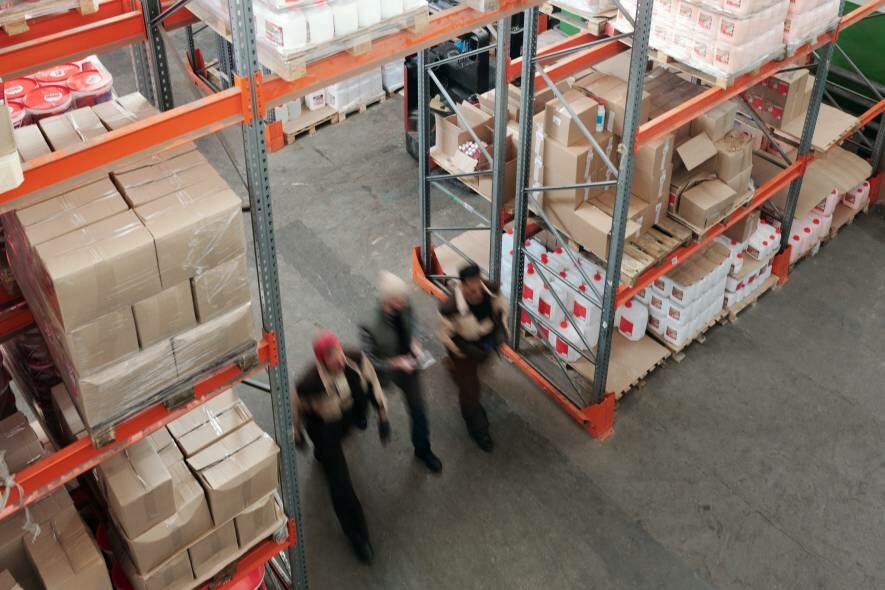 2. What is the delivery time of Expedited Shipping?
The delivery time for expedited shipping depends on the courier company's policy. On average, it takes 2-3 days. However, in practice, this is generally estimated based on how long it takes for a package to be sent by a standard shipping service. For example, if a package typically takes 4-6 days to reach its destination, an enhanced shipping service will typically take 2-3 days less.
For delivery within the United States, for USPS, USPS Priority Express and Priority Domestic can do same day or next day delivery. With these services, you can even have your shipment shipped the next morning.
And courier services usually offer tracking and insurance. For example, USPS Priority Mail Express, the fastest USPS expedited shipping service, will provide $100 insurance and year-round tracking of your shipment.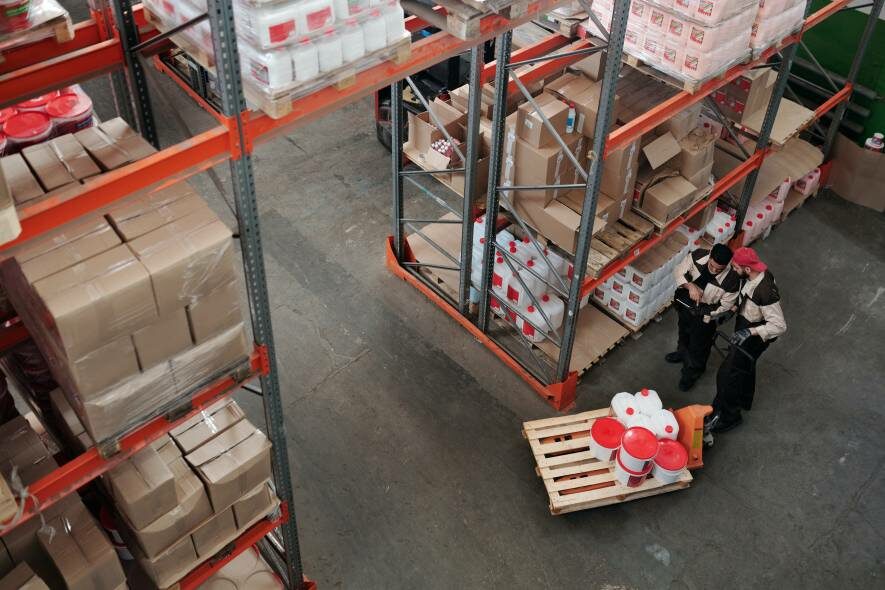 Of course, shipping to international destinations like Canada, Europe and the Middle East will take longer.However, shipping international delivery services like DHL Express can reach most international destinations within 1-2 business days.
UPS offers customs clearance and all-day door-to-door delivery. And FedEx also offers expedited service in the form of overnight pickup and next-day delivery.
3. Which shipping carriers offer expedited shipping?
Each shipping company has their own different shipping services and can generally offer faster shipping and delivery options. To help you choose the best product for your company, it can be helpful to use a third-party logistics provider. Here are the most common methods offered by the major domestic shipping companies in the United States.
USPS
For USPS, the expedited shipping option is called Priority Mail Express, which is described as "fastest domestic service". Packages up to 70 pounds can be delivered overnight via Priority Mail Express starting at $24.70.
They also offer Priority Mail Express options, these options will guarantee delivery by 10:30am the next day. You should know that First Class Mail and Priority Mail (not Priority Mail) are usually shipped within 2-3 days, so these are very popular shipping options.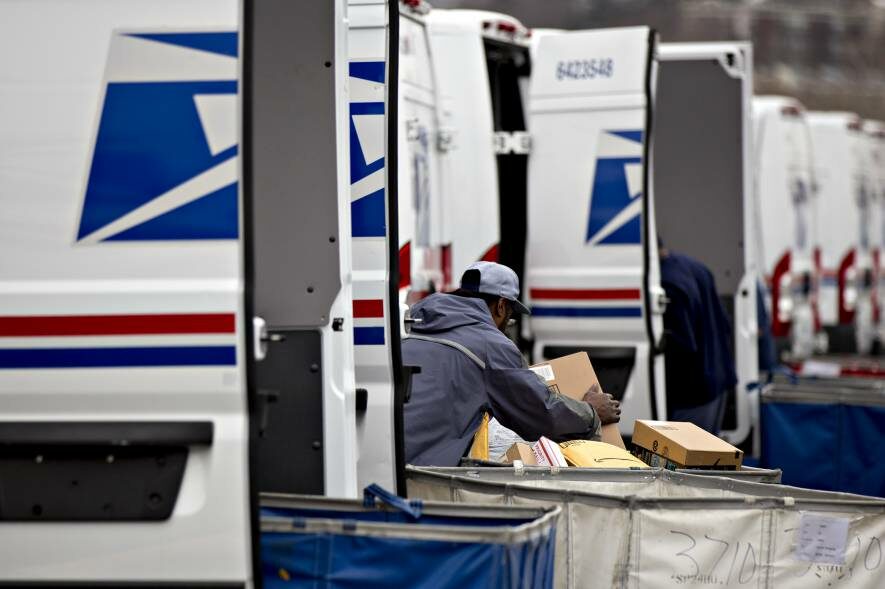 UPS
For UPS, it provides various expedited services and shipping options for domestic deliveries, including same-day, next-day service, two-day service and three-day shipping guarantee.All of these options are faster than the UPS Ground Standard option, which can take up to five business days to arrive.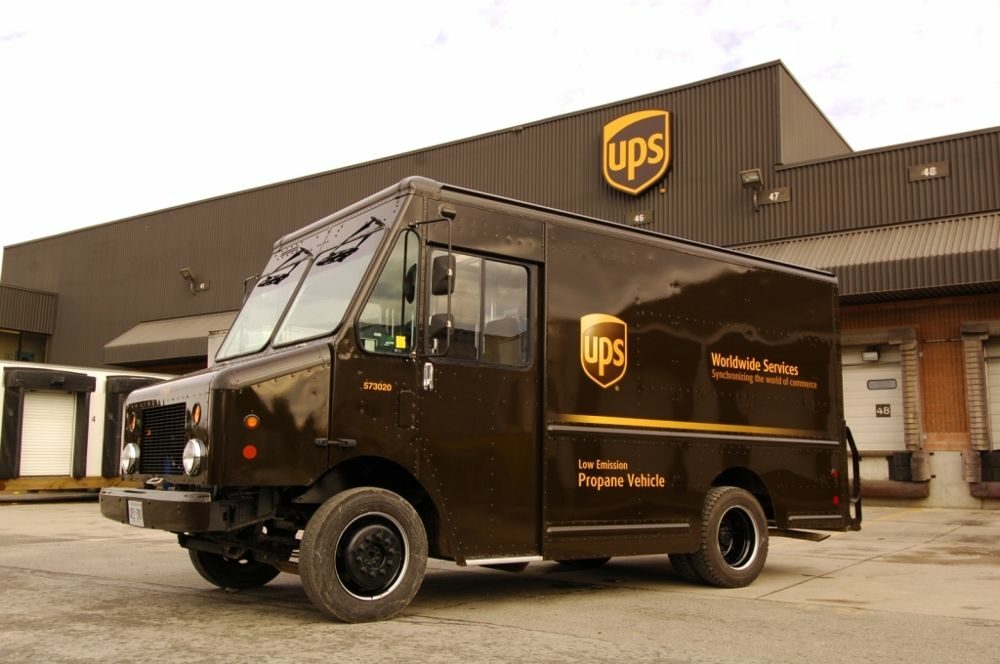 FedEx
For FedEx,FedEx also offers a variety of options for shipping expedited orders, and these costs vary based on the size of the package, the destination, and the speed required. These include FedEx Express Same Day, FedEx Express Saver, and FedEx Expedited Freight Service.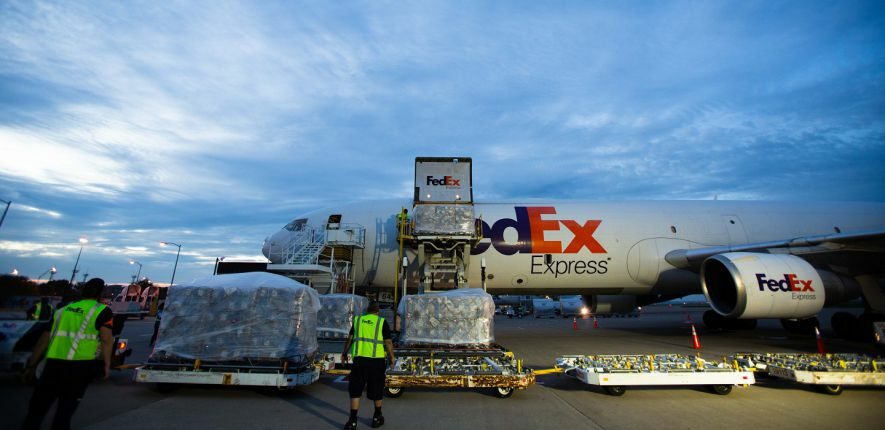 We can have a quick look at the following table of offerings of USPS, FedEx and UPS:
(Just to name a few, please go to the relevant website for the complete list of shipping services.)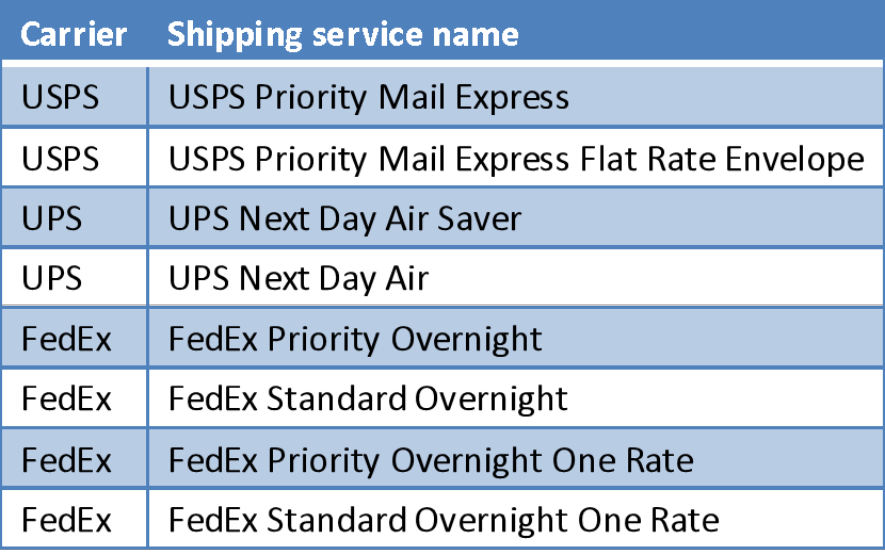 Of course, no matter how good a company is, time and space limitations dictate the speed at which packages are shipped from New York to china That is, a good company will have the ability to ship at any time of the day to ensure that your goods arrive as quickly as possible.
Therefore, when it comes to expediting shipping, you need a company that has a proven track record of providing quality service. On-site experience ensures that the shipping company is familiar with navigating routes, dealing with weather events and dealing with other situations that may affect the arrival of your parcel.
4. How much dose expedited shipping cost?
Any emergency or priority service is more expensive than a standard service, so it is conceivable that an expedited service will cost more than a regular courier service.
As with any shipping, the exact charge for a courier service is based on weight, size, destination and the courier service you use. Let's compare the costs of different courier companies.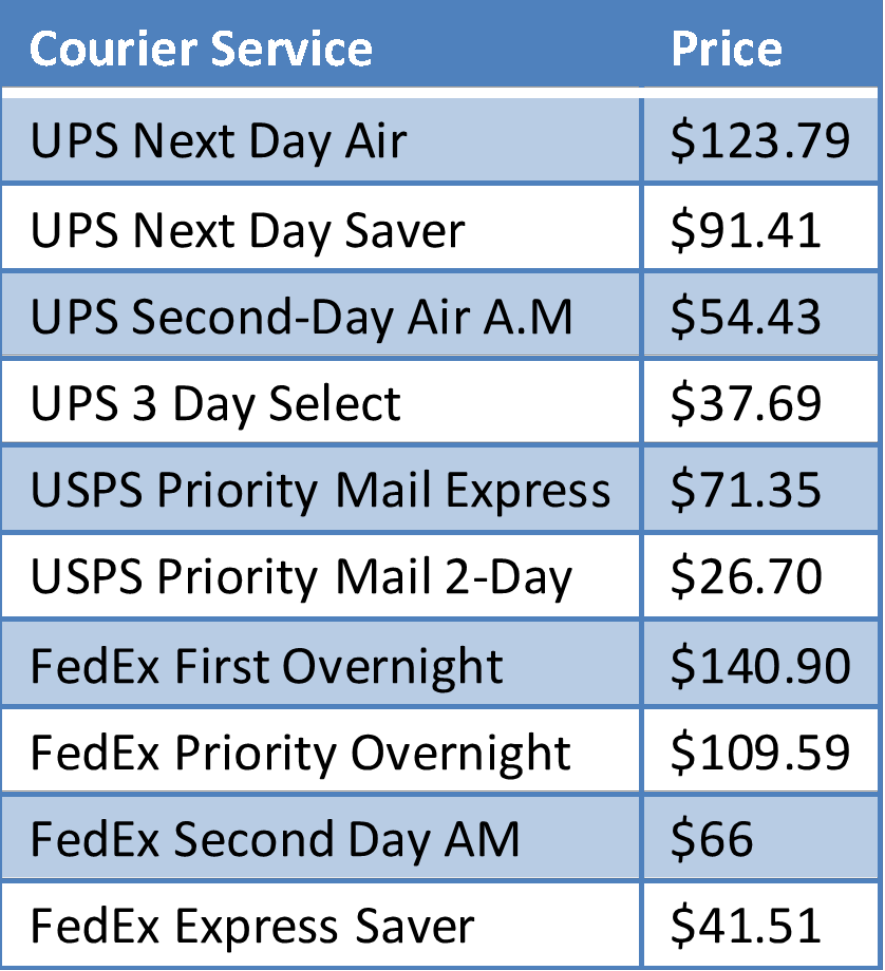 5. Reasons to Use Expedited Shipping Service?
Obviously, the main reason for using expedited shipping services is to ensure that your package is delivered very quickly. So this means that all other considerations are less important.
However, since the service also offers many benefits, speedy delivery may not be the only reason why you choose to use it. Here are a few other reasons why this service will be beneficial to you and your supply chain.
Meeting customer expectations for shipping times
According to statistics, about 60% of online shoppers choose between carriers based on the timing and convenience of delivery options. Today, customers expect fast, affordable shipping anywhere they shop online. That's why many large e-commerce companies offer two-day shipping and free shipping options.
Shipping of perishable goods
Many perishable items, such as food, need to be shipped quickly. If you sell baked goods, frozen foods or seafood, for example, this shipping service will ensure that your products reach your customers in good condition.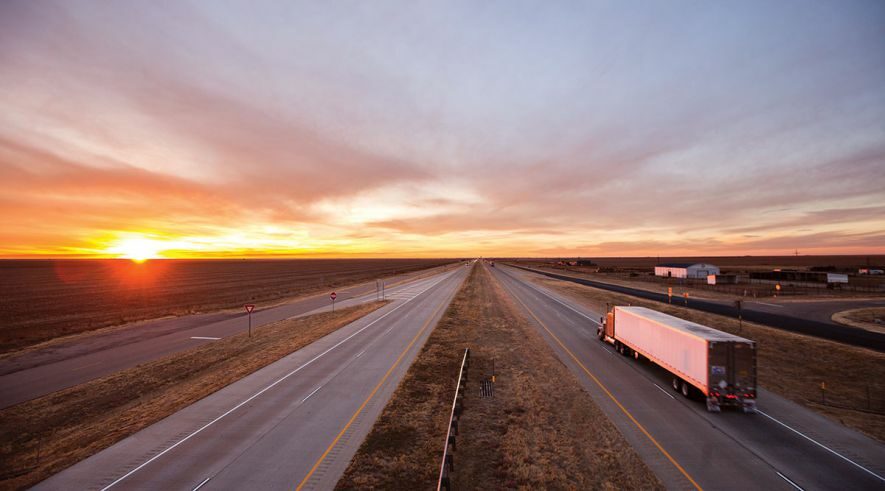 You can build customer loyalty
The average e-commerce store is able to generate 43% of its revenue through repeat purchases. When customers are provided with fast and on-time delivery, they are likely to buy from you again in the future.
On the other hand, 38% of shoppers may never shop with a retailer again after a negative delivery experience, and negative reviews based on shipping time or shipping costs may influence a potential buyer's desire to place an order.
So we can see that most customers need speedy delivery and should make it a standard delivery option for online stores. If you don't, you could end up losing valuable customers who need fast delivery.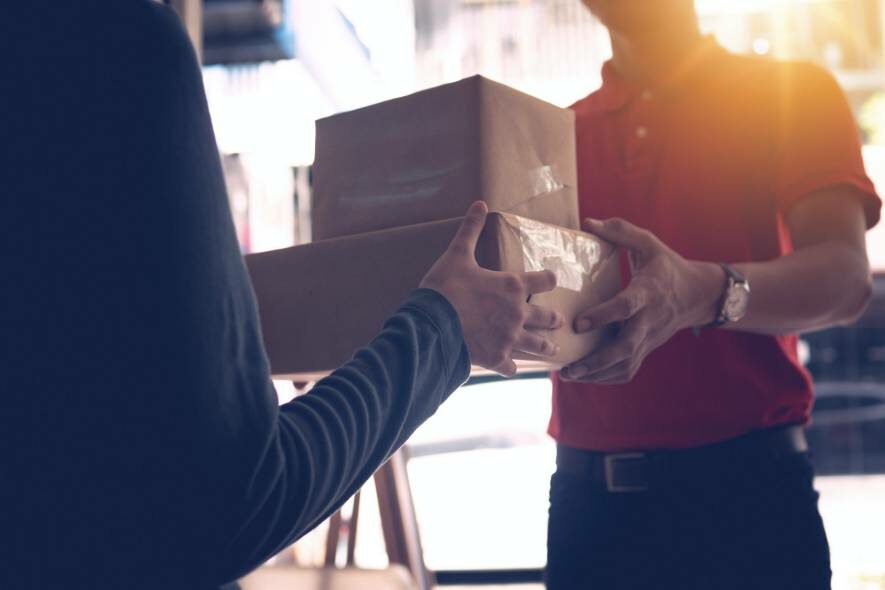 Increase profit
Although expedited shipping is considerably more expensive than standard shipping, as mentioned above, faster delivery of packages attracts more loyal customers, so there is still some increase in profits!
Harm Reduction
We know that with expedited shipping they use two drivers who take turns driving so they don't have to stop during the trip. Instead of moving from one vehicle to another.
This reduces the number of people handling the item, thus reducing the chance of the item being misplaced or damaged.You could say that they are shipped directly from the shipper to the receiver. So there is less chance of damage.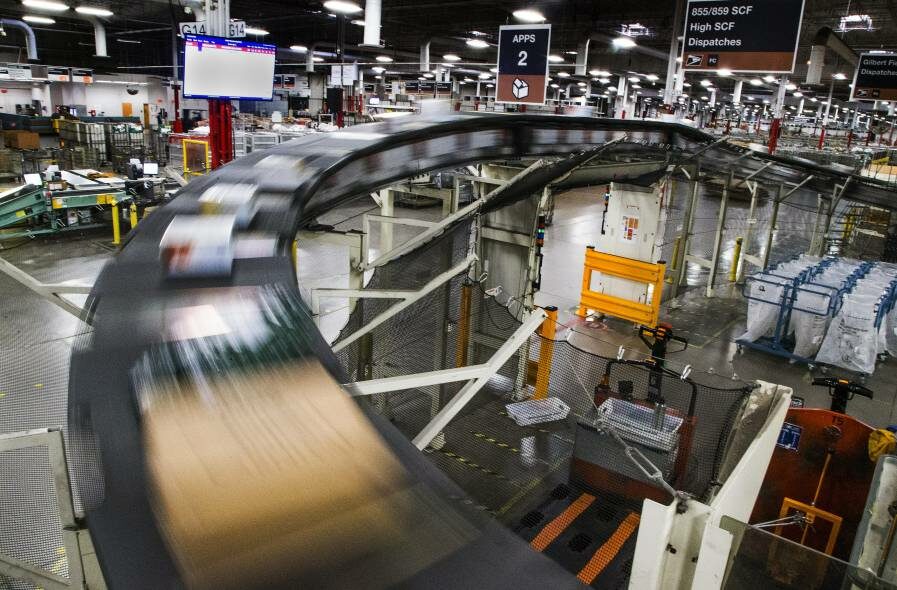 Inventory reduction
When you offer expedited shipping, items will spend less time in inventory. Items have a higher turnover rate, which will also save on inventory storage costs to some extent.
Save time
This is the biggest advantage of fast reading transportation, it allows you to deliver the package as soon as possible, saving everyone's time, so if delivery time is more important than saving money, it is a good shipping service.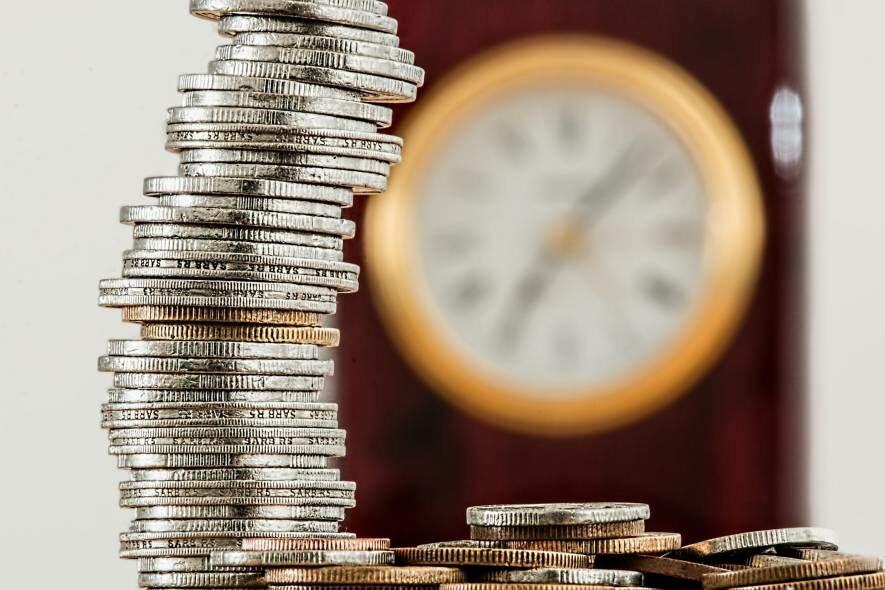 Helping your business
What many business owners don't realize is that expedited shipping is also useful when things don't go according to plan. This is because expedited shipping can be used as a solution when problems occur.
Expedited shipping can still help your business in times of natural disasters. Although storms like hurricanes and tornadoes can be devastating, business still needs to be carried out.
In these incidents, standard transportation usually stagnates, but expedited transportation can usually continue. This is because expedited shippers usually use a combination of small vehicles and air cargo to navigate these areas.
6. Deliver Your Customers' Orders Faster with Post Pony
Today, most online shoppers want to place orders as soon as possible. There are also many people who are willing to pay extra for fast delivery. And sometimes, speeding up transportation is the only reasonable solution, for example, if you sell perishable or require freshness, such as food.
Different courier companies provide different services for fast delivery. This service is more expensive than the standard delivery service, but the package can usually be delivered within 1-3 days.
Post Pony offers fast and affordable shipping solutions, including expedited shipping options. Sign up for free to find out how we can help you find fast, affordable shipping solutions.
Currently there are expedited shipping in cooperation with post pony including UPS and FedEx for domestic shipping, DHL and USPS for international shipping.
Post Pony is a one-stop platform for US discount shipping and overseas warehousing services. Headquartered in Los Angeles, with warehouses in Los Angeles, New York, New Jersey and Portland, and branches in Beijing and Shenzhen, the company has established an extensive logistics network by integrating multiple channels and developing order management systems.
By integrating multiple channels and developing an order management system, we have established a vast logistics network. Ensuring low operating costs and an excellent customer experience.
And Post Pony is the official partner of USPS, providing a large number of express discounts and online printing of express waybill services.Post Pony prints USPS shipping label discounts with greater commercial rates for business users; And Post Pony features are designed to be more simplified and easier to use;
Use Post Pony to print courier waybills online, no need to queue up at stores to fill out and pay for them.While enjoying the professional express service, you will also enjoy the huge discounts that Post Pony provide.
In addition, Post Pony is a fully self-service online mail platform. With Post Pony, an online ordering platform, you can print USPS, FedEx, and UPS Express waybills online.
It can be used in the US, US to countries and regions around the world, and US to China. There will be a discount of 40% to 60% compared to the official USPS store. It is used by shopping agents, international students, e-commerce small business owners and US travelers. For shipping in the US, use Post Pony, it will save you money, time and reliability.
So hurry up and sign up for a Post Pony account and place your order! Lots of discounts waiting for you!